Loving Kindness in action"!

Anthony R. Conard




​Schedule A Thai Yoga Massage
Call or text: 937-825-5914p
please include your name if you text & leave a message if you call!

120 minute ($135)
A 90 minute session is Recommended! ($115) 60 minute ($95) 30 minute ($60) Thai massage is also available in your home for an additional $20 OUT CALL TRAVEL FEE for distances within 20 miles of Dayton OR variable over 20 miles. Please note: Couples Thai Massage is available but the sessions are performed back to back not at the same time if there is only one practitioner available. Please note: wear comfortable cloths with sleeves and long pants suitable for yoga and you may palan on being here for two hours when you book a 90 minute massages. This allows for 15 minute before and after time with the client.
Namaste! Table Thai Yoga Massage (performed on a massage table) is available if you can not lie down or get up and down from the floor. The rates are the same for both Thai massage on a Table and Traditional Thai massage on the floor.
Cash, check or credit card payment is accepted. There is a small processing fee (less than 3%) for to swiping a card.
All scheduled appointments are confirmed by text before you arrive.

POLICY PLEASE NOTE: Be responsible! Cancelling or rescheduling an appointment is completely OK! However, you are expected to pay for $50 of the service fee if you do not show up or do not call or text to cancel or reschedule. Please confirm all appointments by responding to the confirmation text you will receive before each and every session. If you can not make your appointment please simply text "I need to cancel" - no explanation is required! OYS&STM reserves the right to terminate the professional/client relationship in cases of client misconduct.

FOR YOUR HEALTH:

Thai yoga massage and does not not evaluate, diagnose or treat any medical condition. Please consult your health care provider before receiving Thai massage if you are not in good health.

WHAT TO WEAR: Thai yoga massage is performed fully clothed. Please wear loose fitting long pants and a shirts (with sleeves) as would be appropriate for a yoga class. Cotton pants and tee-shirt is ideal. You may change clothing at the studio before and after your session. Coming from work? Don't worry. You may be offered Thai pants and a tee-shirt to wear during the session.

It is best not to eat a heavy meal before Thai yoga massage.

Please call or text 937-825-5914, or email info@theyogastudio.us to schedule.
Thai Yoga Massage is a dynamic bodywork that offers all the benefits of yoga-therapy and assisted stretching in one modality. Thai Yoga Massage is essentially consists of passive non-weight bearing joint mobilization performed fully-clothed on a special floor mat. Recipients experience a flowing dance of passive yoga based stretches, with "palming and thumbing" along sen energy lines (meridians) and marma points (energy points) which unique to Thai Yoga Massage. Thai Yoga Massage is called
Nuad Thai
(Thai-style massage) or Nuad Phan Boran (ancient-massage) in Thai language.
I use my palms, thumbs, fingertips, hands, fists,elbows, forearms, knees and feet to massage you in supine, prone, side-lying and sitting positions. Watch your body unwind as I help you relax into gentle assisted yoga-like postures, each adjusted to your unique body type (dosha) and condition. Passive non-weight bearing joint mobilization has been proven to help restore cartilage and improve range of motion and mobility.
​
Clients report feeling better, more relaxed, and yet at the same time feeling energized after a good session. These benefits often last for days. Thai massage was traditionally performed in Buddhist temples, and was in fact part of a system of Thai Ayurvedic medicine. Please know that I am not in anyway qualified to treat or diagnose any medical condition. Thai massage might improve circulation, relieve muscular tension, strengthen the immune-system, and balance the body energetically. Like yoga, this bodywork is for men and women, young and old, fit and unhealthy. Anyone can benefit from Thai Massage. You do not have to be athletic, strong, flexible or healthy; or be even be able to sit on the floor, or know anything about yoga to receive it. Nuad Thai is performed as an integrative matte-meditation connecting body, mind and spirit.
What to Expect when You Schedule Massage
To schedule simply call or text Anthony at 937-825-5914, or email him at info@theyogastudio.us There is no on line booking or payment option at this time. Your session begins on the phone! Thai massage is performed fully clothed. It is recommended that you wear comfortable, non-restrictive clothes, such as those you would wear for a yoga practice. Thai fisherman's pants and T-shirt may be offered if you arrive wearing jeans, dresses or improper clothing. There is a private changing room and bathroom available. It is important not to eat a heavy meal before a session. Please call with any question you might have. I am a teacher!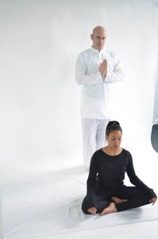 Treat yourself by scheduling massage session today! We all deserve excellent self-care and a little pampering now and then. Yoga and Thai yoga massage is an excellent part of a personal health care program for holistic well-being.

Jai Bhagwan! (Honoring the Light in You!)

About Anthony r. conArd m.a. (dharmadas)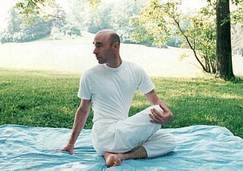 Studio director Anthony began practicing yoga at Kripalu Center in 1986 at age 26. He began teaching yoga classes after ten years of practice. He founded the OM Yoga Studio & School of Thai Massage at age 36 in 1997. The studio is small second-story, practice space located in a private residence at 1836 Pershing Blvd., in Dayton Ohio. Every student receives personal attention according to their needs. I do ask that you reserve your space at least 10 minutes before any yoga class, or private session.

Anthony likes to say: "Yoga is best studied in a small setting where everyone receives personal instruction because everyone has unique and special needs". Classes generally begin with settling in with a short meditation (centering), warm-ups, traditional asana (postures), free flow or "mediation-in-motion" unique to Kripalu yoga and end with shavasana (relaxation) or yoga nidra (restorative yogic rest). The class concludes with a short meditation and may begin and end with pranayama (guided breathing) and dhyana (mediation). The essence of Kripalu yoga can be stated in five words: Breath! Relax! Feel! Watch! and Allow!

Anthony earned his masters degree in anthropology from the University of Cincinnati in 1985, and his background in the study of linguistics, human biology, and non-material culture informs his teaching. Yogis teach that every sentient being is looking for the self-same loving kindness (metta), self-realization, enlightenment and happiness. He is experienced in making yoga accessible to all levels of experience in mixed-level classes. In yoga the beginning practices are the advanced practices!

Anthony studied yoga at the Kripalu Center of Yoga and Health in the Berkshire Mountains of western Massachusetts. There he trained extensively as an ashram resident at Shadowbrook (Kripalu Center), founded by Yogi Amrit Desai. He received the Sanskrit name "Dharmadas" and began practicing yoga in 1986.

Anthony is a certified Kripalu Yoga instructor and teacher of Lotus Palm Thai Yoga Massage. He learned to teach Thai yoga Massage from Kam Thai Chow (founder of Lotus Palm) and he is a certified Lotus Palm Thai Yoga Massage practitioner. Anthony's deep interest in the practices that relieve suffering truly sets him apart from gym-yoga teachers and his experiences have shaped him into an authentic traditional yoga instructor. Our intention is stated in essence by these traditional prayers:

May all Beings be happy.
May all Beings be free from suffering.
May all Being be free from the causes of suffering.
Metta Meditation

Asatoma Satgamaya (Lead me from what is false to what is real.)
Tamasoma Jyotirgamaya (Lead me from ignorance to knowledge.)
Mrityorma Amritamgayma (Lead me from limited to timeless being.)
Brihadaranyika Upanishad

---

OM Yoga Studio & School of Thai Massage
|
1836 Pershing Blvd. Dayton, OH 45420
|
(937) 825-5914
|
info@theyogastudio.us
© 2018 OM Yoga Studio & School of Thai Massage. All rights reserved.